Updates and information for ASU students using VA Benefits

In recognition of the ASU military community: Honor patch
Former student Peter Valenzuela, who now serves as a transit planner at Valley Metro in Phoenix, created ASU's Honor Patch. His contributions to the Pat Tillman Veterans Center led to the opportunity to design a patch that would honor all those who served in the military and create a sense of belonging to ASU. 
---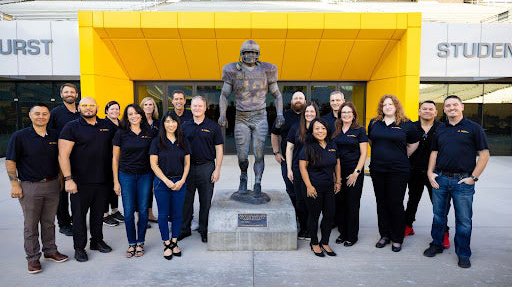 HONOR: Holistic approach | Opportunities | Network | Outstanding Service | Resources
The Pat Tillman Veterans Center is dedicated to upholding the tradition of honor displayed by all branches of the military. Through a holistic approach, we provide outstanding opportunities for our military and veteran-affiliated students. We offer access to a network of organizations and employers who want to contribute to your career aspirations. And we believe your service to the country should be reciprocated with outstanding service and resources to help you succeed in your journey at ASU and beyond.
Our mission
The Pat Tillman Veterans Center aims to ensure ASU's military connected learners and student veterans have the support they need to ensure a successful academic journey and beyond. We're here to help every step of the way.
Our namesake: The Pat Tillman story
Arizona State University honors the life and legacy of former ASU and pro football star and military veteran Pat Tillman. At the Pat Tillman Veterans Center, we see firsthand how Pat's life and principles live on through our active military, veteran and dependent students, on-campus and online. Learn more about Pat's story and how ASU honors the student behind the legacy.

Student
Pat Tillman was a born leader who pushed limits in all aspects of his life. Throughout his youth, he was adventurous, inquisitive, and even then driven to perform his best. His diligence and relentless curiosity were his trademarks, along with a challenger mentality. He excelled in his athletic pursuits, but his talent went beyond the field.
A dedicated ASU student, Pat was awarded the Clyde B. Smith Academic Award in 1996 and 1997, and named the Sporting News Honda Scholar-Athlete of the Year in 1997 and the Sun Angel Student Athlete of the Year in 1998. He earned a BS in marketing and graduated summa cum laude in three and a half years. While playing for the Arizona Cardinals, he pursued a master's degree in history from ASU. He continued to pursue knowledge throughout his life, reading voraciously and engaging in debate to develop and share new ideas.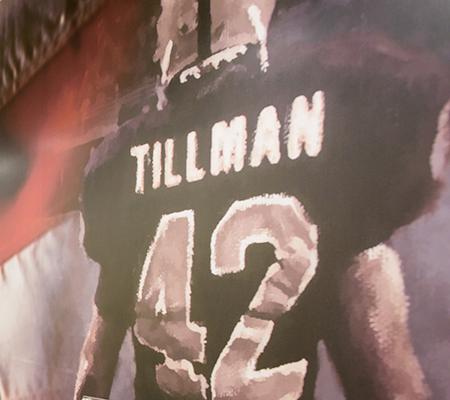 Athlete
At his high school in San Jose, California, Pat switched from playing baseball to football, despite his smaller size.He excelled on the high school field, and his talent earned him a scholarship to play for the Sun Devils at ASU. He continued to excel in the sport at the university as a linebacker, leading the Sun Devils to the 1997 Rose Bowl after an undefeated season. He earned three consecutive selections to the Pac-10 All-Academic Football Team, a first-team Academic All-American honor, and the NCAA's Post-Graduate Scholarship for academic and athletic excellence.
The Arizona Cardinals selected him in the seventh round of the 1998 NFL draft. Pat became the team's starting safety and broke the franchise record for tackles in 2000 with 224. He remained loyal to his team throughout his professional football career and turned down a contract with the St. Louis Rams to continue playing for the Cardinals, despite the financial benefits of the Rams' offer.
To read more about Pat's story, visit the Pat Tillman Foundation. *Content sourced from the Pat Tillman Foundation and Biography.com.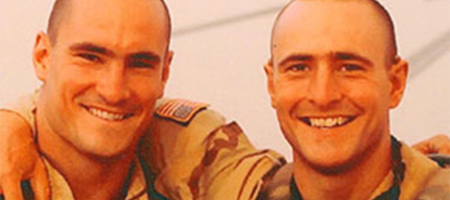 Soldier
In 2002, Pat walked away from a $3.6 million contract with the Arizona Cardinals to enlist in the U.S. Army. On the evening of April 22, 2004, Pat's unit was ambushed as it traveled through eastern Afghanistan, leading to his tragic and untimely death.
Following his death, his family and friends established the Pat Tillman Foundation. Created to honor Pat's legacy by inspiring others to create their own, the foundation invests in military veterans and their spouses through academic scholarships — building a diverse community of leaders committed to service to others.
To read more about Pat's story, visit the Pat Tillman Foundation.
Veterans Education Fund
ASU's Veterans Education Fund assists student veterans in fulfilling their goal of completing their education at ASU. Started by a generous supporter in 2012, the VEF provides hardship help and competitive scholarships to close the gap between veteran benefits and college costs. The number of applicants for the scholarship increases each year. With your donation, we can offer scholarships to more of our deserving student veterans this year.
ASU Foundation
Honor our military veterans, and active-duty and dependent students by supporting their higher education journey at ASU. Your generosity champions their success on campus and prepares them for the workforce.
Corporate sponsorships
Looking for ways to give back and support our military, veteran and dependent community? Connect with staff at the Pat Tillman Veterans Center to identify potential corporate sponsorships and other giving opportunities.
Stay connected with the Pat Tillman Veterans Center by following us on social media, watching our student success stories on YouTube, reading about the military support at ASU and more. 
Pat Tillman Veteran Center staff and locations
PTVC is here to assist you. Reach out to our staff or visit one of our campus locations to meet with us.
Downtown Phoenix campus
University Center Building, room 130
602-496-0152
480-522-3058 (Fax)
Hours of operation
Monday–Friday: 8 a.m.–5 p.m.
Tempe campus
Memorial Union, Lower Level, room 75
480-965-7723
480-522-3058 (Fax)

Sun Devil Stadium, Suite 500 (in the East Sideline building)

Hours of operation
Monday–Friday: 8 a.m.–5 p.m.
Polytechnic campus
Administration Building, suite 110
480-727-2773
480-522-3058 (Fax)
Hours of operation
Monday–Friday: 8 a.m.–5 p.m.
West campus
University Center Building, room 101
602-543-8220
480-522-3058 (Fax)
Hours of operation
Monday–Friday: 8 a.m.–5 p.m.
ASU@Lake Havasu City
Military Student Support
480-965-7723
480-522-3058 (Fax)