By Helena Wegner
Transitioning from the military to civilian life and not knowing what academic or professional direction to take next can be challenging. 
The Veterans Scholar Program prepares student veterans for life after college as leaders and community members in an environment that fosters professional development.
The program maps out the steps members can take to achieve professional and academic success through the completion of workshops and events. 
These activities include resume building, learning interview skills for internships or jobs, networking, dressing to impress, financial responsibilities, goal setting, leadership seminars and discussing controversial topics with other cohort members.
"Coming from out of state and not knowing anybody, but knowing that I wanted to go into a specific field — I just didn't know how to do that," said Santos T., the VSP coordinator. "This program lays out the how-to's."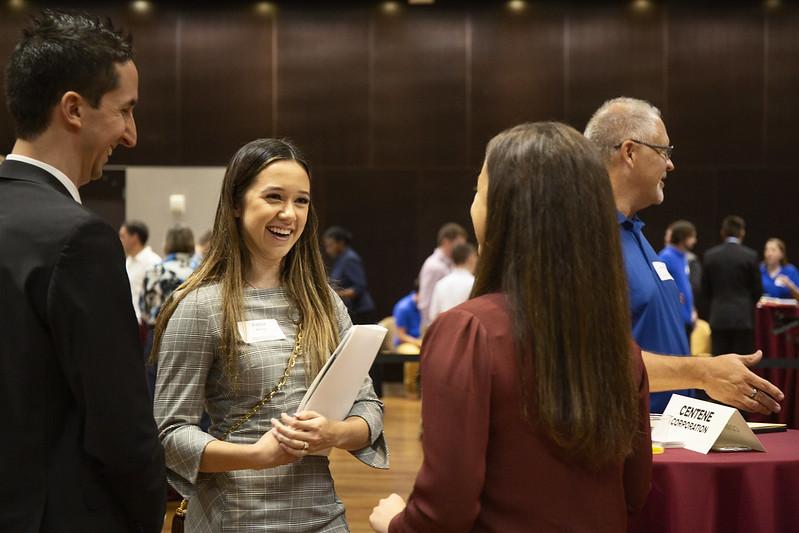 Incoming members will also get the opportunity to connect with cohort members who have already been established in the program. VSP alumni will be involved in the program to provide support and guidance, along with additional resources and connections.  
Undergraduate students can apply for the program when they are sophomores, juniors or seniors. 
Former cohort members spoke about their experiences and how the program prepared them for life after college. 
Marisa Von Holten
Marisa Von Holten, a graduate of the second cohort, said she wanted to join the VSP for professional development and guidance on how to apply for and get jobs. 
The program did just that for Von Holten. 
"Learning basic things like how to dress, how to introduce yourself, and have an elevator pitch ready to kind of sell yourself and make yourself memorable and marketable helped me make the transition from military professional to civilian professional," Von Holten said. 
Another aspect of the program that Von Holten found helpful was learning how to use LinkedIn to maintain relationships with people she had met who were relevant to her career or who just inspired her. 
She used the platform to reach out to a former cohort member and inform him of a job opening at her workplace — an opportunity that was cultivated by being part of the VSP.
Darrell Horton
Darrell Horton, also a graduate of the second cohort, said veterans often struggle while adjusting to academia and "corporate culture."
For Horton, the program provided him a space to connect with a group of like-minded individuals and learn that he wasn't alone in his struggles.
"Often we segregate ourselves into corners or little groups, and we don't get a chance to really speak openly and honestly about some of the struggles and issues we face, so this program really brought us together and allowed us to do that, especially at the Hamilton dinners and workshops," Horton said. 
The Hamilton dinners were the events Horton said he got the most from. 
At the dinners, cohort members had "open, honest and candid" conversations about specific controversial topics such as the U.S. southern border wall and Colin Kaepernick kneeling during the national anthem. 
Michael Armendariz
Michael Armendariz, a member of the inaugural cohort, joined the program because he wanted to grow as a leader and overcome his shyness of communicating with others. 
The VSP offered him a chance to join a community of veterans where he could learn about the experiences of others and step out of his comfort zone. 
Armendariz is getting a degree in educational studies and wants to be a teacher, so it was important for him to practice speaking and presenting with others. 
He added that the program taught him how to network, which was beneficial for his career. 
"I don't think I really knew what networking was before I joined," Armendariz said. "I knew you communicated with people and talked, but learning it at that level … of how to introduce yourself and what you can talk about was new to me and a big highlight for me." 
Lastly, through the seminars, workshops and community service events, Armendariz said he learned how to sell himself to employers by setting himself apart from his peers.  
The application deadline for the upcoming cohort is Sept. 1, 2020. Apply here. 
More information and requirements about the program can be found here. Contact the Veterans Scholar Program team at militaryadvocate@asu.edu for any further questions.